Chile: Day 5/Part 2–
After getting ready for the day, we headed back down the road toward Laguna de Chaxa: Reserva Nacional "Los Flamencos'–we wanted to see some flamingos!
We weren't sure if the park was going to be open to private vehicles, because last night we had learned that the 10 km. long dirt road leading to the lake was under construction. When we got to the turn, we saw that the road was clogged with construction vehicles. We pulled to the side of the road unsure of what to do. I was SURE that I had understood that the park would be open during the day, but keep in mind that the man last night was speaking in Spanish, and I don't speak or understand Spanish. Okay, I know a small handful of words, but that's about it.
We had just decided to turn around, when a van pulled up next to us and beeped. The driver rolled down the passenger window, and was trying to tell us something. I was too far away to hear or understand, so I got out of the camper and approached his van.
He smiled while pointing to the turn, "Laguna?"
"Sí, Laguna," I replied. I told you my Spanish was limited!
He spoke for what felt like a minute, but it was probably more like ten seconds. I heard a definite, "Sí," as he motioned down the road. "Sí…flemencos."
I took a shot, "It's okay to drive down the road to see the flamingos?"
He answered in another long string of Spanish words, but once again I heard, "Sí."
I thanked him and got back into the car. I turned to Pierre and said something like, "It's okay for us to drive down the road. The park is open and we can see the flamingos."
Pierre gave me a look that said—Yeah, right
Visibility was low because every vehicle was kicking up a lot of sand and dirt. We already knew from last night, that the road was going to be narrow and tight, but it was even worse during the day because of the construction vehicles moving about.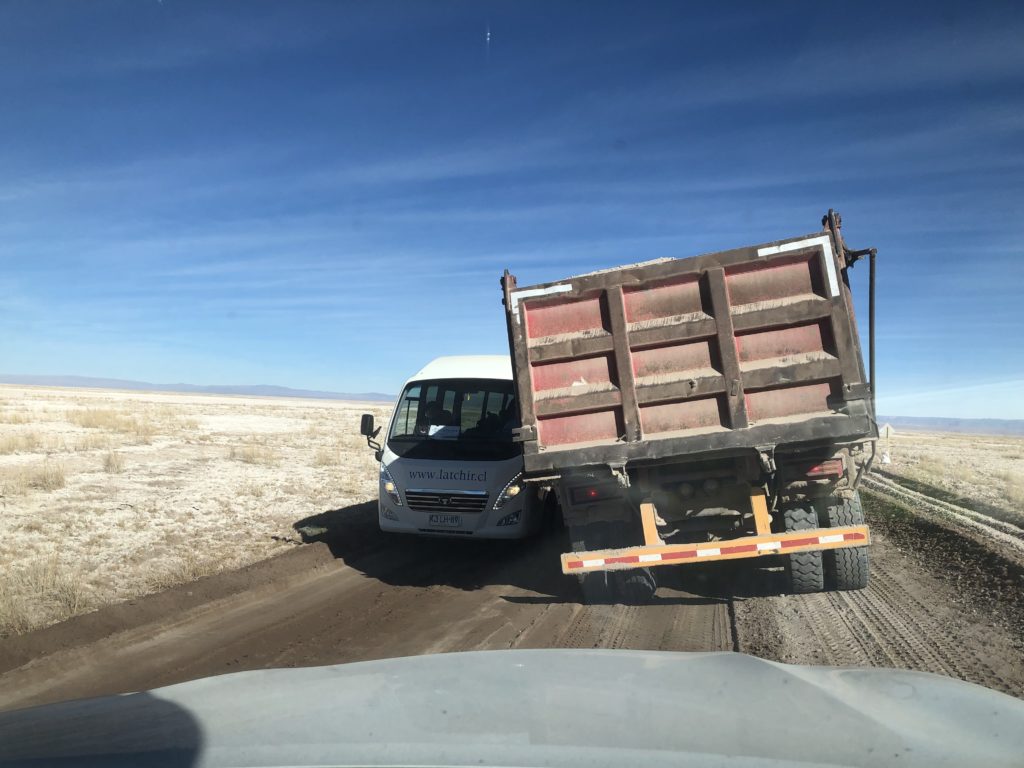 It was slow going, but we finally got past the construction as we entered the Nature Reserve. We saw a visitor center in the foreground, two lakes surrounded by salt flats, and the whole scene was framed by snow-covered mountains in the distance. Three types of flamingos makes their home on the lakes here–Chilean, Andean, & James. The area was beautiful. It almost had a mystical feel to it, except for the presence of the tourists who were dotted along the walking trail in the distance.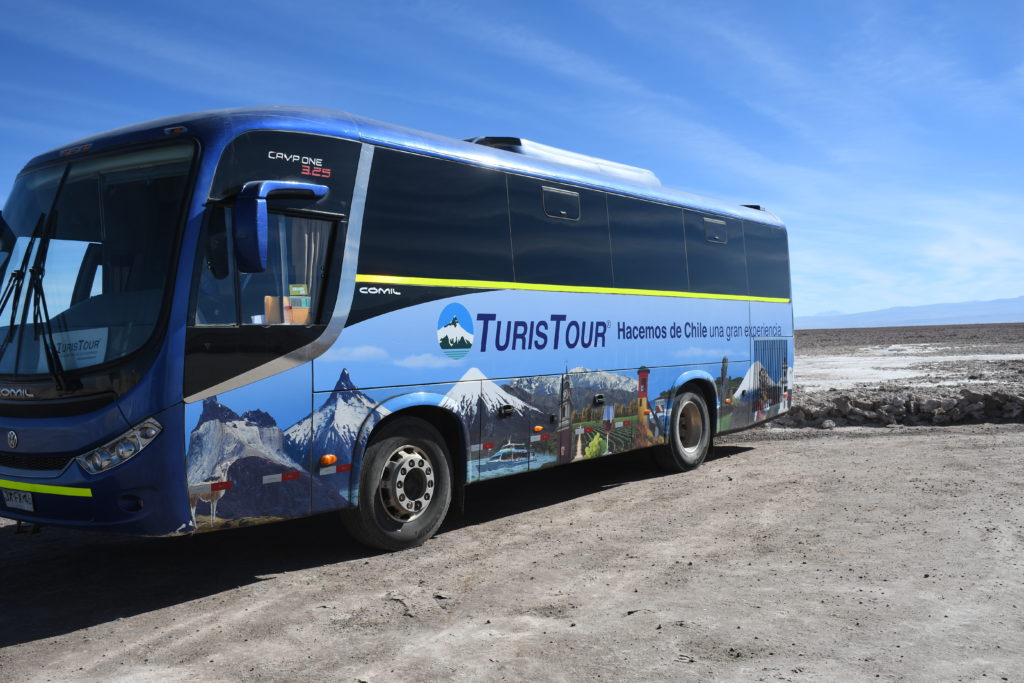 After paying a very small entrance fee, Pierre and I walked down a trail that was carved through the salt flats. It lead out to a viewing area by the lake. Pink was certainly the color of the day–we saw lots of flamingos!