Portugal 2019/Part 11–
We decided to start the day by checking out Lisbon's well-known flea market, Feira da Ladra, which is located in the Campo de Santa Clara, a public square near the National Pantheon. It's open every Tuesday and Saturday and has been in operation since the 12th Century. In the market you can find anything from old dolls and broken tiles to cork products and crafts (and everything in between). We also found an incredible tile store as we were walking around. Tile is heavy to carry…but that didn't stop us from buying! I also found a pair of earrings that are made from espresso capsule pods. How do people think of things like this ? I must have the creativity of a slug!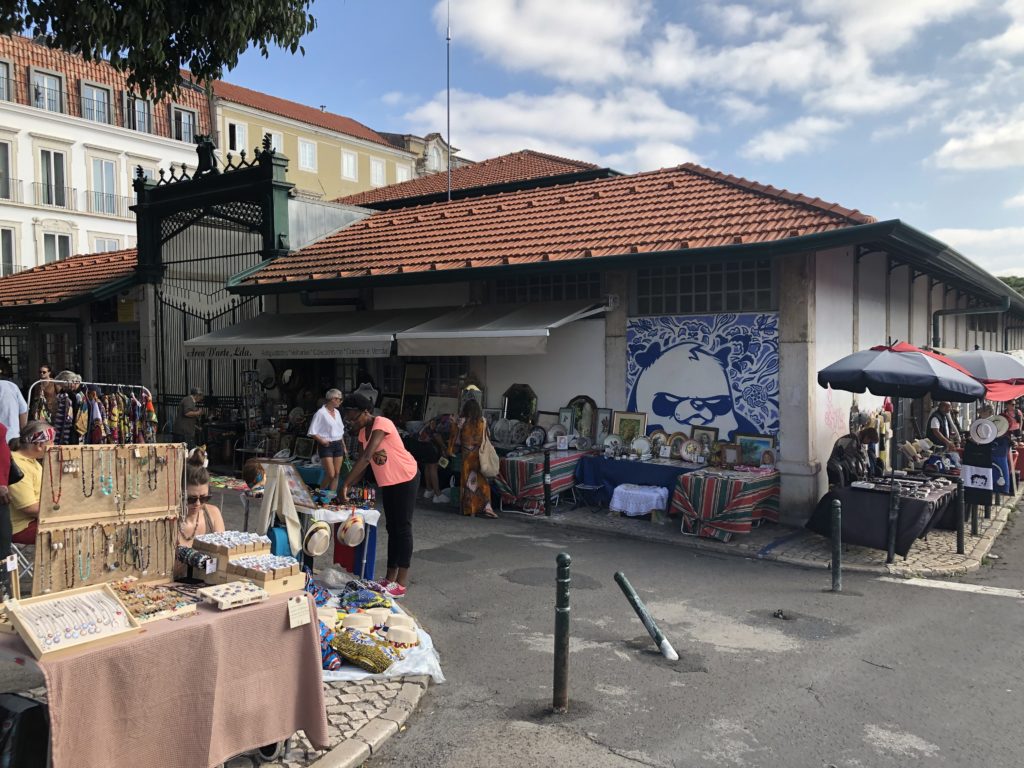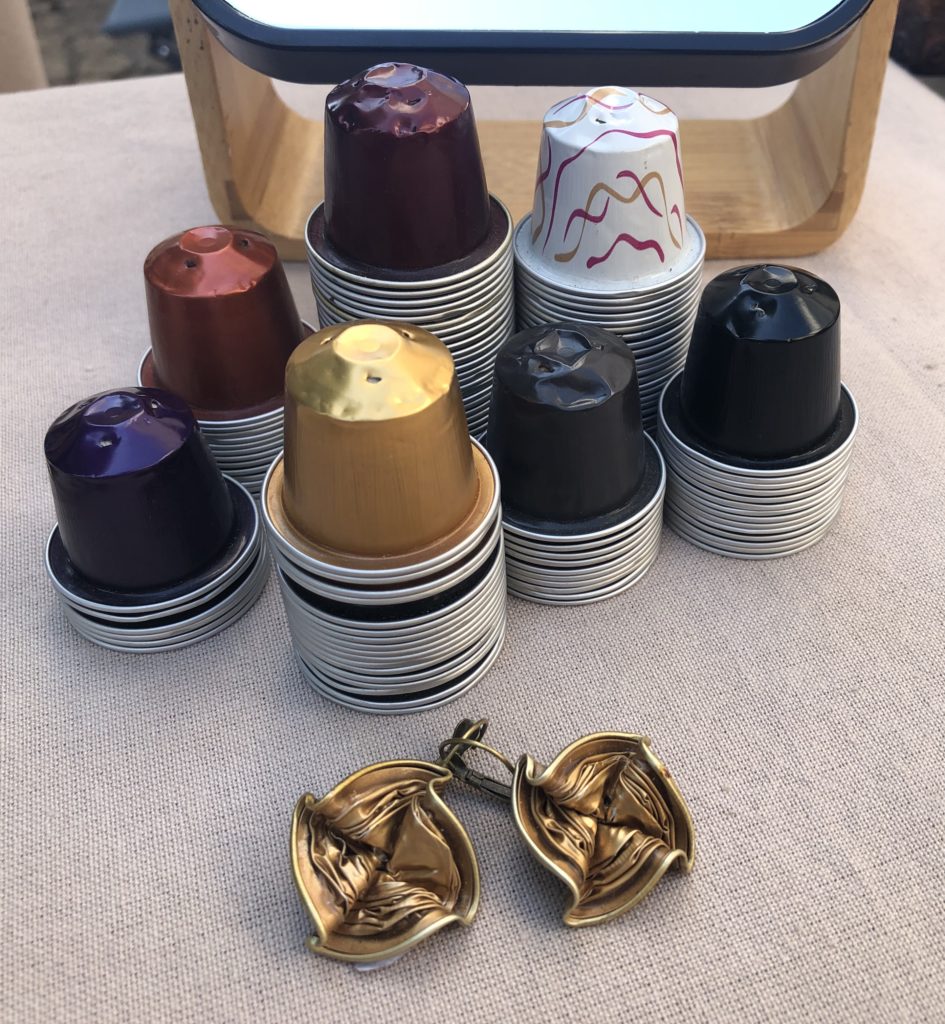 After wandering around the flea market we continued to explore the area, and we found a little shop with a sign that said, " Old Secret Pass to Pantheon." I stopped and looked at the sign, and the store keeper asked, "Aren't you going to ask about it?"
I took the bait, "Okay, tell me about the secret passage."
He told us that the street that we were standing on didn't exist de real hundred years ago, and that there was a "cut through" to get to the Pantheon which was now their shop.
He invited us in and showed us the cobblestone flooring which was part of the passageway, and he showed us an old wall, which has been left exposed to better see the old construction. He also told us about the earthquake of 1755, a brutal event that in combination with subsequent fires and a tsunami, almost completely destroyed Lisbon and the surrounding areas.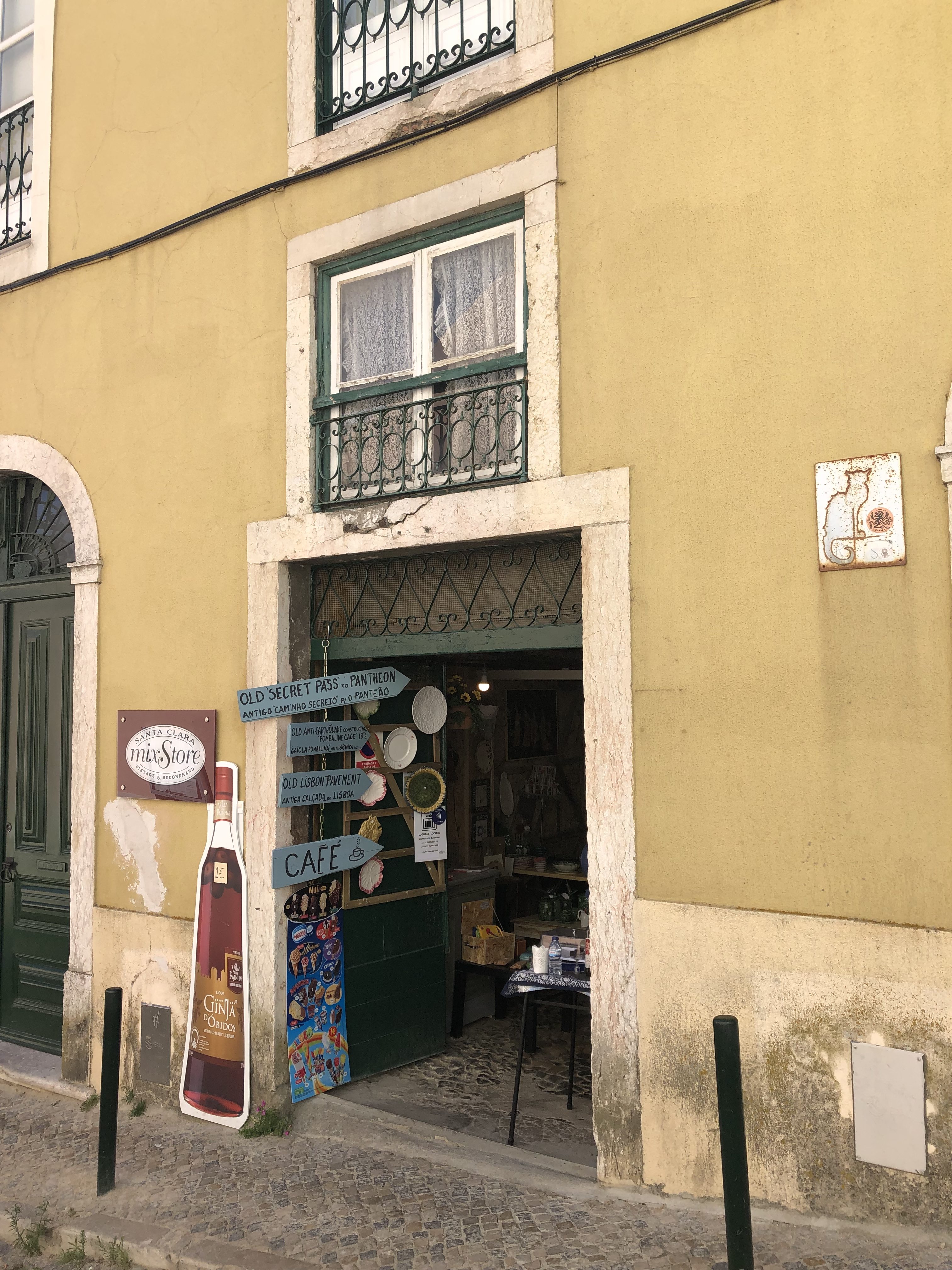 We looked around the store and we noticed a little ceramic dish that was made to look like a man. The shop keeper asked if we knew the story behind the odd man, and we told him that we didn't
The character was named Zé Povinho and was created by Rafael Bordalo Pinheiro, a Portuguese artist known for his illustration, caricatures, sculpture, and ceramics designs. He created the popular cartoon character in 1875 as a representation of the working-class people of Portugal. Ze' is a kind and friendly man to his peers, but he mocks and ridicules the elite class and government who rule by tyranny and injustice.
Zé Povinho is a popular character in Portugal and the ceramic dish depicts him giving a version of the "F@#k you hand motion on the front. When you turn the dish over, it's clear to see what he thinks of those who try to control the working-class. We enjoyed the story, and the salesman sold three, as we each wanted one.
We followed the passage way through the store and ended up in a little restaurant that had outdoor seating and a great view of the Pantheon.
Yes please–wine with a view!